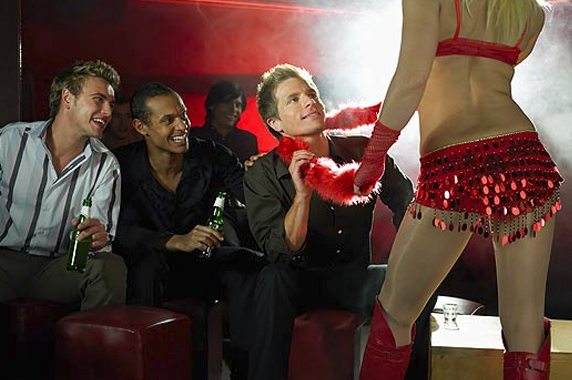 We do great Bachelor Parties in the Main Bar.
Food and drink for 3 hours from just $40 per person. We serve bottled or tap beer, top shelf liquors, and 4 different food plans to match your budget.
If you are interested in making a reservation to reserve a section of the bar, please call 973-748-3699. There is no minimum amount of people needed, but a $50.00 deposit is necessary.Oh, and 21 great dancers are available for table dances to help ease the poor guy's pain. We also do smaller parties in the Upstairs Cigar Lounge.The price $50 per person and you may include a  food plan for an additional charge.
Food Plans:
(1) Off the Menu:  Full Menu Price.

(2) Regular:  Hero Sandwiches, Hot Dogs & Penne Parmigiana – $5 per head.

(3) Silver: Hero Sandwiches, Pizza, Mini-Cheeseburgers & Hot Wings – $10 per head.

(4) Gold: Hero Sandwiches, Pizza, Mini-Cheesesteaks & Fried Calamari – $15 per head.

We allow some substitutions for Silver and Gold.